Floor oil
Floor Oil is based on natural linseed oil. It preserves natural tone of old and new wooden floors. Floor Oil accentuates the texture of the wood and protects it from wear-out and moisture.Floor Oil is ideal for keeping the floors and staircases natural.Floors which have been oiled, should be cleaned regularly with dry vacuum or a brush and wiped with moistened cloth. Worn-out areas can be cured with a new layer of Floor Oil. Heavily trafficked areas should be treated with maintenance layer of Floor Oil every 3 – 4 months, other areas once or twice a year. Floors treated with wax should be cleaned with the dry vacuum or a brush and polished with dry cloth to provide a sheen.

Place of use

wooden floors, wooden stairs

Instructions

Shake well before use. Make sure the floor is dry, clean and polished with sandpaper. Floor Oil can be toned with paint pigments- average dosage 5 %. Apply thin layer of Floor Oil to the surface with the brush or a cloth and let it absorb. Remove all unabsorbed oil from the surface not later than 30 minutes. Let it dry for at least 12 – 15 hours before applying the next layer. The amount of layers is 1 – 3 depending on the quality and the purpose of use of the surface. Finish with floor wax if necessary. Warning: Floor Oil can darken certain type of woods. It is advisable to test a small area first. Floor Oil is not suitable for varnished, painted or vinyl surfaces. Usage for other purposes and against the directions is not recommended.
Sobib nii heledate puiduliikide kui ka väärispuidust pindade viimistlemiseks. Põrandaõli kaitseb hästi kulumise eest ning on niiskuskindel. Lihtne kasutada, baseerub looduslikul toorainel; on ideaalne , et hoida enamik puitpõranda tüüpe suurepäraselt naturaalsetena. Sobib hästi eluruumide, magamistubade, saunaruumide puitpõrandate ja treppide viimistlemiseks. Hooldamine: Kui kasutatud on ainult põrandaõli, siis põrandalt peaks regulaarselt pühkima või imema tolmu ning seejärel pühkima üle niiske lapiga. Kulumise korral kanda uus kiht Põrandaõli kulunud pindadele. Tiheda läbikäimisega põrandaalasid on vaja alguses uuesti õlitada iga 3-4 kuu järel, vähese läbikäimisega alasid 1-2 korda aastas. Uute kihtide kandmine sõltub liikumisest põrandal. Vahatatutel põrandatel peaks tolmu pühkima või imema ning seejärel lapiga üle hõõruma, et läiget taastada. Tugevama tulemuse saavutamiseks katta Amello õlivahaga.
Kasutuskohad:
puitpõrandad, trepid
Kasutamisjuhend
Enne kasutamist loksutada Tee kindlaks, et põrand oleks puhas, kuiv ning lihvpaberiga korralikult töödeldud. Kanna Põrandaõli ainult puhtale pinnale, eelnev viimistlus peab olema eemaldatud. Kui põrandat on plaanis toonida, siis kasuta enne Põrandaõli peitse. Teine võimalus on Põrandaõli toonida Värvipigmentidega, lisades viimast keskmiselt 5 %. Kanna õhuke kiht Põrandaõli puitpinnale pintsli või lapi abil. Liigse materjali osa, mis enam ei imendu peab hiljemalt 30 minuti pärast pühkima ära. Kanna peale teine õhuke kiht pärast esimese kihi minimaalset kuivamisaega 12-15 tundi. Viimistluskihtide arv on 2-3 sõltudes puitpinna kvaliteedist ja kasutamise eesmärgist. Vajadusel vahata pind hiljem põrandavahaga. Hoiatus : Põrandaõli võib tumendada teatud tüüpi puitu. Põrandaõli kasutamisel peab ette antud aja jooksul kindlasti eemaldama üleliigse õli. Õli ei sobi lakitud, värvitud või vinüülpindadele. Kasutamine muuks otstarbeks ja vastupidiselt antud nõuannetele ei ole soovitav.

Värvus: läbipaistev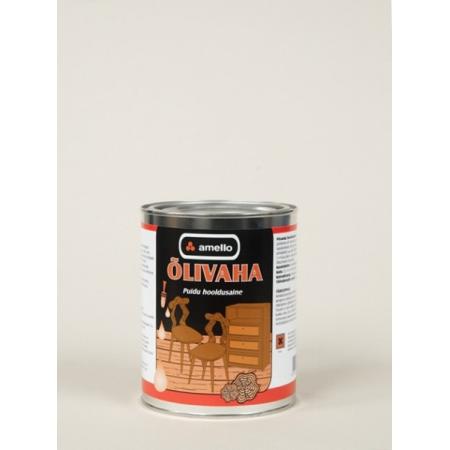 Amello õlivaha puitpindade viimistlemiseks. Õlivaha on linaõli js karnauba vaha baasil valmistatud toode, mis säilitab uute ja vanade puitpõrandate naturaalse tooni, tuues hästi esile puidu tekstuuri ja andes sellele siidise läike. Sobib nii heledate puiduliikide kui ka väärispuidust pindade viimistlemiseks. Õli kaitseb hästi kulumise eest ning on niiskuskindel. Lihtne kasutada, baseerub looduslikul toorainel. Vastupidavama viimistluse saamiseks kasuta eelnevat Amello põrandaõli. Sobib hästi eluruumide, magamistubade, treppide, mööbli ja siseuste viimistlemiseks. Õlivaha ei sobi saunaruumide, köögi põrandate ja töötasapindade viimistlemiseks.
24,00 €